Gladys Garden is a nice location from which to explore Beijing and Greater China, for that matter. It is located in the heart of Beijing, a twenty minute walk from the Palace Museum, five minutes from subways Line 8 or Line 6, and various local sites (including two minutes from the Houhai/Qianhai lake area.
We encourage individuals who have short-term plans for staying in Beijing (scholars, students, businessmen) to drop us a line about spending sometime with us. Below are the rates we ask for of our several available rooms. As a simple "bed and breakfast," we offer a self-serve selection of cereals, coffee, and eggs.
Gladys Garden: Yang Zhi and David Jacobson are your hosts. We also live here and enjoy chats with our guests. If you are interested in staying a few nights with us, please introduce yourself in our query form.
Latitude: 39.93692150081123 Longitude: 116.3854318857193
Address: #6 Xiaojinsi Hutong, Houhai, Beijing
Cell: 1 3 5 5 2 2 3 8 7 7 1
wechat: yang000gladysgarden
Our accommodation rates per night are noted below (prices are in Chinese yuan). To view and/or book a room, click on the appropriate room link.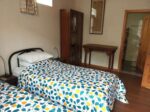 Casual Living One – Double room with private bathroom – RMB280 single / RMB360 double
This room has two twin beds and is on the ground floor. It is an en suite room with bathroom and shower. It has a south-facing window and is quieter than the other rooms at night because it faces a narrow hutong (alley) with no traffic.
Casual Living Two – Single room with backdoor access to porch and garden – RMB260
This is on the second floor and shares a bathroom with Casual Living Three. The room is quite spacious with window overlooking the backyard garden. It has private access via the outside stairway, as well as easy access to our rooftop patio.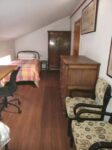 Casual Living Three – Double room – RMB240 / RMB 340
This is on the second floor and shares a bathroom with Casual Living Two, which is a single guest room. Slightly slanted ceiling.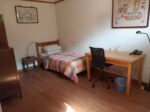 Casual Living Four – Single room with private bathroom – RMB280
This sub-basement large room comes with a twin bed and bathroom. It is accessible through our kitchen.
All rooms are furnished and have floor heating and air conditioners. Hot/cold water is ample and supplied 24 hours a day. Water pressure is good. All rooms are non-smoking. Vaping is allowed.
We have one short-haired cat that loves people. We, the hosts, are fully bilingual (Chinese/English) and friendly apatheists.
Prices include simple breakfast supplies (i.e., we offer coffee, cereal, eggs, milk, toast, but not steak or caviar or the like). We won't prepare meals for you. Guests can use the kitchen to prepare their own breakfasts, preferably before 10:00 a.m. (we eat lunch early, around 11:00 a.m.)
The living room, garden, and rooftop decks are shared public space. In the evening the hosts generally watch a movie or TV series, but guests are welcome to interrupt us for a visit. Free wifi is throughout the house.
There is a washing machine in our laundry room. No dryer. Clothes are hung up either outside or in the laundry room to dry. You may operate the washing machine yourself, after noting instructions on how to use the machine.